The styles of the "traditional" wedding dresses sure have changed over the years…from shoulder pads, to long sleeves, to "princess" style, to form fitting couture. Would a traditional bride in the 1950's even dream of wearing what modern brides are wearing today? While the classic white wedding gown has been around since the 19th century, styles and bridal taste have significantly transformed over time. Here's a timeline of the decades we've created to show this evolution – Enjoy this blast from the past!
1920
The roaring 20s was a time of beauty, vintage, and fun. There is definitely a reason why 20s style wedding dresses are still seen in vogue. These dresses are some of the most iconic styles to date. Historically, the wedding dress worn at the time of marriage showcased the social and economic status of the bride's family. At this time, wedding dresses were often designed with a beaded bodice, fringed skirt and minimal, yet elegant accessories.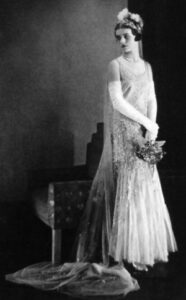 1930
Most 1930s fashion was taking inspiration from the silver screen – Wedding gowns were no different. Bridal gowns featured in the movies were typically designer made and affordable only to the rich. At the time, knock offs were offered to brides at a fraction of the price. White or light-colored party dresses were recreated as wedding gown patterns for brides to be, making the latest designs attainable for all budgets. Dress styles included floor length, bias cut dresses, long sleeves, minimal sparkling, and sun hats or tiara style headdresses.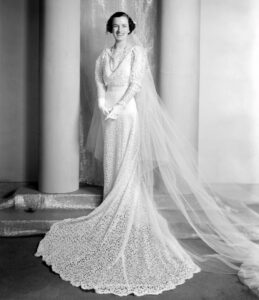 1940
The 1940s was a time of turmoil, which caused weddings to be considered not as formal as they were the decade before. However, these couples did not let it get in the way of saying "I Do". Most weddings during the 1940s were planned "brunch style" with a light meal served after the ceremony. The wedding couple often opted to wear a more professional-like business attire to ring in their new marriage. Another popular option was wearing a hand-me-down dress from the mother of the bride.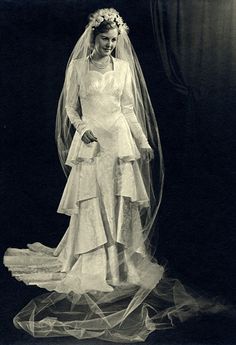 1950
Entering the 1950s, we began to see a shift in the bridal industry. Future brides wanted high fashion wedding dresses and looked to their current Hollywood movie stars for inspiration. Manufacturing improvements now allowed wedding dresses to be sold "off the rack" which offered many more options for brides. A popular dress style for this decade was a simple sweetheart neckline, small waist, and full skirt gown.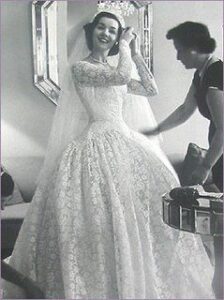 1960
By the 1960s, fashion was becoming more popular by the day. The traditional white wedding gown was continuing to transform. However, we began to see a new interest in elegant bridal accessories. Dress styles also experienced a shift as hems began to rise, and gowns were simpler in shape compared to the years before.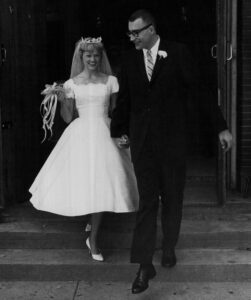 1970
The 1970s was a popular time for show-stopping bell-bottom pants and the rise of disco. However, it was also an era of economic struggle, cultural change, and technological innovation. Dresses at this time became simple for some. Bridal gowns became more feminine, flowy, and organic. Others chose to go for puffy sleeves with a high neckline. Bridesmaids dresses also became very… interesting and colorful to say the least.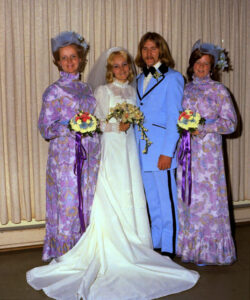 1980
1980… the decade of teased hair and some of the greatest music we have ever heard. By this time, bridal gowns were decked out in lace and beading. Sleeves continued to grow as well as head pieces. Don't forget the removable shoulder pads! Gaudy add-ons and 3 dimensional touches made for the wedding gowns of this time to be some of our most memorable.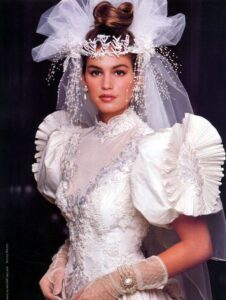 1990
The wedding industry was booming by the 1990s. Weddings became bigger, better, and much more expensive. The brides of this decade were not as interested in intricate embellishments, layered skirts, or ornate appliqués. They much rather preferred the simplicity of a slinky, sexier sheath gown in silk. The commonly known "princess dress" came in to play as well. Sleeves became less popular and gloves were often a must-have. In addition, we began to see a rise in hair and makeup trends, which of course added immensely to each brides wedding day look.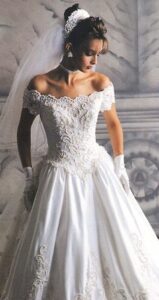 2000
The era of personalized weddings and the "cha-cha slide." At this time, strapless gowns became very popular within the bridal industry. Shinier fabrics like satin and taffeta were most common, with bling used instead of lace details. Ball gowns were a favorite, and colored sashes or appliqués were chosen, along with spaghetti straps.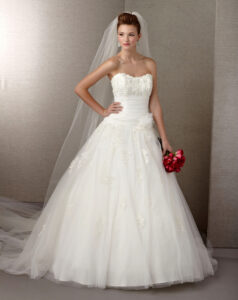 2010
2010 served as the era of photo booths, textured flowers and innovative ceremony set ups. Sleeves made a return – This time, many were happy to see that the shoulder pads were left in the 80s.  Dresses were also now more form fitting. Mermaid style dresses were introduced and became popular amongst future brides with elegant beading, flowers, and light tool skirts.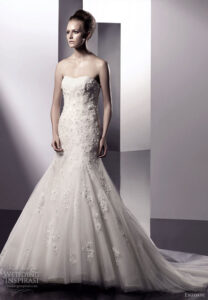 2020
As the wedding industry continues to grow and change, experts are curious to see how these traditions will evolve over the next 10 years. We are now seeing weddings more elaborate than ever before, with average cost at over 40k. Dresses are now very modern with see-through detailing, mesh, and netting. Blush and nude undertones are also becoming increasingly more popular to satisfy even the pickiest of brides.